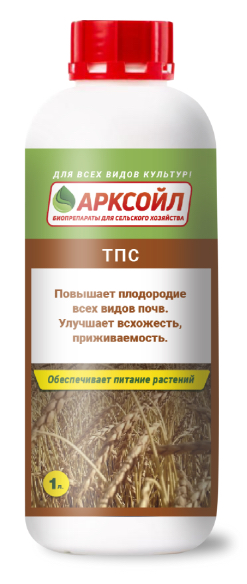 To order
Arksoil - TPS
Fertilizer for organic harvest
COMPOSITION:
The composition of micro- and macronutrients common for the main line of Arxoil preparations is supplemented by Arksoil TPS with natural natural glauconite mineral - (K, H2O) (Fe3 +, Al, Fe2 +, Mg ) 2 [Si3AlO10] (OH) 2 × nH2O, which by its nature is chlorine-free potassium-phosphorus fertilizer. It has a complex effect on plants: it increases by 30-35% the germination and survival rate of plants, promotes the growth of yield (by 20-35%), its environmental friendliness due to a decrease in the content of heavy metals and toxins.
Glauconite has a layered structure, has a pronounced ability to cation exchange, has a high sorption capacity and is used to remove heavy metal salts (binds up to 99% Pb, 64% Hg, 96% Cu, 97% Co). Glauconite converts water-insoluble chemical complexes present in soil into water-soluble and easily digestible forms for plants, to improve the structure and permeability of the soil. This property is based on the exchange of cations, the mobility of the lungs, "noble" metals and the formation of organometallic substances useful for humification. This allows decomposing complex substances (nitrates, petroleum products, many dioxins, pesticides, etc.) into simpler and less dangerous compounds, produces sorption of toxic substances and radionuclides, and prevents their entry into plants and crops.
For this property, glauconite was named cationic destructor (destroyer), increases the digestibility of chemical and organic fertilizers by 20-40% and prevents leaching of useful substances, saturation of plants with water, glauconite absorbs up to 80% of water from its mass and gives it to asthenia. Bio-fertilizer of the main line of growth-promoting drugs "Arksoil", made specifically for "summer residents" and household plots.

This drug is introduced from a watering can, does not require complete dissolution: getting a fluid paste into the soil, provides the best effect. In addition to all the main functions, relieves stress from the soil in the event that in previous seasons chemical fertilizers at the site were used excessively or not for the intended purpose.